Our team members play an essential role in carrying out our
COMPANY'S VISION, MISSION, AND CORE VALUES
John B. Sanfilippo & Son, Inc. (JBSS) is able to succeed in delivering products that are unmatched in the industry because of our team's dedication and passion.
At JBSS, we take pride in our people and our products. Our culture focuses on individual and organizational accountability. We are committed to investing in our employees through on-going career development and learning. We strive to create a dynamic and challenging environment, ready to help you succeed.
The future is bright here at JBSS. We welcome you to discover the infinite opportunities available for you to optimize your skills and talent.
John B. Sanfilippo & Son Inc. strives for diversity and inclusion in everything we do. Click here to learn more.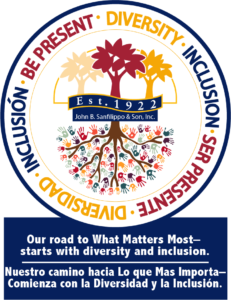 "The strength and dedication of the company to an employee has been a stronghold to me throughout my own personal challenges over the years. My co-workers make it a pleasant experience each and everyday to get up and get through the day."
Mary Ann Payton-Howell – Office Services Supervisor
"Coming to work at John B. Sanfilippo & Son, Inc. has been a great career move. Employees and departments work together in a challenging and fast-paced environment to create a wide variety of innovative products."
Matt Hutchinson – Sr. Food Scientist
"John B. Sanfilippo & Son, Inc. has a family atmosphere. We work together to make sure that we have the best products that our customers have learned to expect from us. John B. Sanfilippo & Son, Inc. has given me opportunities to learn a new industry while at the same time allowing me to feel my work is appreciated."
James Chu – Supplier Quality Engineer